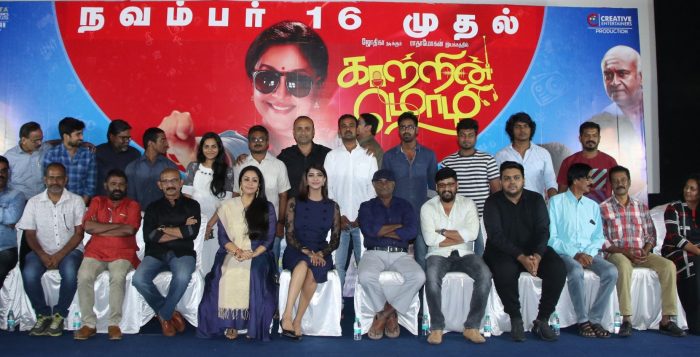 The entire team of "Kaatrin Mozhi" including Jyotika, Vidaarth, Lakshmi Manchu, Director Radha Mohan, Producer Dhananjayan, Music Director AH Kaashif and everyone from the team we're present.
Actress Jyotika said, "Acting in remake films are always a huge challenge. It's because, usually hit movies are remade and we have a huge responsibility to perform well. Especially, a film like Tumhari Sulu, where Vidya Balan mam has given a fabulous performance, the responsibility is much heavier. It's been 12 years gap after working with Radha Mohan in Mozhi, I am once again working with Radha Mohan sir. Nothing has changed and everything including the pressure, responsibility and excitements were as same as in Mozhi. The highlighting trait about the film is the chemistry between husband and wife." Jyotika continued to add humorous touch to her speech saying, "In around 55-60
films I have done, this is one film that was completely shot in Air Conditioner room."
Getting on to speak about Lakshmi Manchu, she said, "She has been the life of the movie and Thank God, she came for the final schedule. Because, we felt so much of dullness during the patch up works as she had already left."
On Vidaarth, she said, "I have been comfortable all throughout my career working with Suriya, Ajith and Madhavan. I would say, it's Vidaarth who has been so much supportive on the sets. I am sure, he will definitely win everyone's appreciations."
Actor Vidaarth said, "It has been a long time dream to work with Radha Mohan sir. I have been admirer of his movies and am happy that my long run dream has come true. Working with Jyotika mam has been something that I had never imagined. I happened to play a small role in her Magalir Mattum, where we shot for a day. When I went back home, my wife asked me why I didn't click a photo with her. My Mom and wife happen to be her great fans and that made them ask so. But now to work with her in a movie is a big dream come
True. Actually, the first day shooting of the film was to involve a lengthy dialogue. Especially to perform it when a giant actor like Jyotika is beside me gave me uttermost nervousness. But she made me comfortable with her support. When it comes to choosing movies, I always love to have a long list of good quality movies at my home library. "Kaatrin Mozhi" will be definitely one of them."
Actress Lakshmi Manchu said, "Every moment in the film was a joy. I had been a great fan of Jyotika and working with her made me nervous for the initial days. She is someone who just gives the best with complete involvement. Chennai is always special to me as I grew up here. I am keeping fingers crossed that the film becomes a good hit and gains me more offers that I may get settled here forever."
Filmmaker Radha Mohan said, "Everyone has done a good job and it has been a positive virbration and I am thankful to Dhananjayan sir for having made this project come out well. Jyotika has given her best into the role. I am sure the movie will be liked by all."
Music Director AH Kaashif said, "I have no words to say other than Thanks as I have been here now with the debut after 3-4 years of struggle. I got this opportunity to compose music for "Kaatrin Mozhi" and am happy about the good reception of songs. We have now completed composing background score for this film."
National award winning Costume Designer Poornima Ramaswamy said, "This is the first time in my career that I have worked in a colourful movie. The central character of the film – Vijayalakshmi herself is a colourful one that has made the entire film more embellished. I am so much happy to have worked with Lakshmi Manchu mam for being so much supportive. She would easily accept any costumes and would have a perfect look with her charisma."
Actress Sindhu Shyam said, "I feel so much overjoyed being a part of such a positive team. I belong to a nuclear family, where while reading the script of "Kaatrin Mozhi", we could relate something close to our heart. I am sure, everyone will relate themselves as well. I am also elated to see that my son Tejas is also playing an important role in the film.
Actor MS Bhaskar said, "I would say that working with Jyotika was like a brother-sister moment throughout. She is so much supportive to me that she spoke high of me and got me a role in Malayalam movie Kayamakulam Kochuni. So the entire team has been so much brimmed with people of positive energy and vibrations."
Producer Dhananjayan said, "The first challenge in "Kaatrin Mozhi" was to complete the film in single stretch as I wanted all the actors to remain so much closer to the characters. When I approached Jyotika mam whether she can give bulk dates for the film to complete the film in single stretch, she readily said ok. So we as a team had to prepare ourselves for this and now happy to see that it has been wrapped on time as planned."