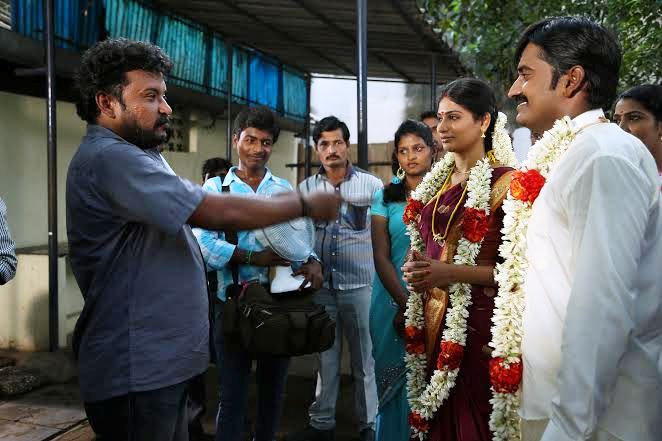 Up shot Films P Madhu Sudhanan presents Ski Lite Creations Sudhir Jain in the company of director Badri's B & C Films are producing a film titled Aadama Jaichomada. Besides being part of the production, Badri has also directed the movie.
Badri had earlier directed Veerappu, Aiyandham Padai, Thambikku Indha Ooru and Thillu Mullu. Aadama Jaichomada is his fifth directorial venture.
Speaking about the film, Badri, says, ' The general rule of a game is that one will win and another will lose. The winner will get the trophy. But today everything has gone for a toss. The winner may get the trophy but the loser gets enough money. There is rampant corruption in sports today.
In those days, a defeated team would sit and analyse why they lost the match. But today a defeated team as to sit and find out because of which individual in the team they lost.
Generally we write a story. There are lot of imagination it. We will write dialogue and make it a movie.
But today the cricket match especially that makes us go crazy watching it live is scripted by someone somewhere. The drama elements are decided by someone else away from the action.
Cricket is like a religion in the country. Elders follow the sport with craze while children play with utmost passion under hot sun. Such a sport is marred by corruption and bribery. It is a disturbing news that we read in newspapers and watch in televisions everyday. So this prompted me to do a film. The betting which spoiled the sport is narrated in such a way that it would be understood by common man too in the movie. But it is laced with humor all through.
It would be a racy watch like witnessing a crucial Indo – Pakistan cricket match. It would be racy and riveting.
'Soodhu Kavvum' Karunakaran, 'Neram' and 'Jigarthanda' fame Simha, Balaji, 'Chennai 28' and 'Anjathae' Vijayalakshmi, Aadukalam Naren, Radharavi, Vichu, Chitra Lakshmanan, Chethan, Abhishek are in the cast. Filmmaker K S Ravikumar is playing a key role.
The highlight of the movie is dialogues by Shiva. A RJ-turned-actor Shiva had been part of many hit comical films including Chennai 28, Saroja, Kalakalappu among others. In Badri's Thillu Mullu, Shiva was the hero. He has penned hilarious dialogues for the movie.
The movie will have music by Shaan Roldan, grandson of writer Sandilyan. Pa Vijay, Ramesh Vaidya, GKB and Shaan Rolden have penned songs. Cinematography is by Dwarakanath and editing by K J Venkatramanan. The shooting was on at Chennai, Mumbai and Hyderabad. Plans are on to release the audio in April and movie by May.