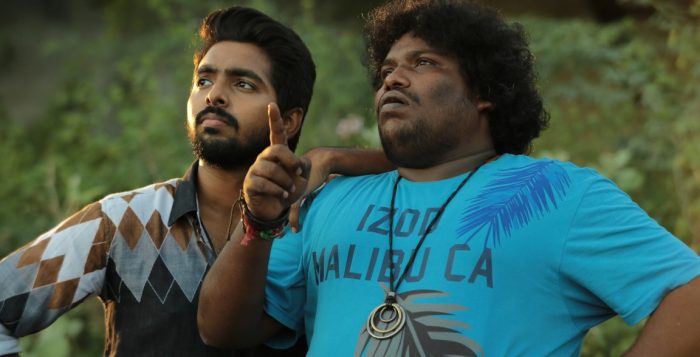 நாயகனாக ஜி.வி.பிரகாஷ் நாயகியாக அர்த்தனா காமெடிக்கு யோகிபாபு அப்புறம் சொல்லவா வேணும் சுஜாதா சிவகுமார், மன்சூர் அலிகான், கோவை சரளா மற்றும் பலர் நடிப்பில் ஜிவி பிரகாஷ் இசையில் விவேக் ஆனந்த் ஒளிப்பதிவில் அறிமுக இயக்குனர் வள்ளிகாந்த் இயக்கத்தில் வெளிவந்து இருக்கும் படம் தான் செம
முழுக்க முழுக்க ஒரு கிராமத்து நகைசுவைகதையை இயக்குனர் கொடுத்துள்ளார் படம் முழுக்க சிரிப்புதான் முதல் காட்சியில் இருந்து கிளைமாக்ஸ் வரை அசத்தலான நகைசுவை.
The unfolding was in a village area, the hero Kulandaivelu (G. V. Prakash), delivers the English punches in a stylish way and the young man, who wants to work coolly and forcefulness in the town initially, Kulandaivelu trades out of vegetables and fruits on the roadside and this made a trouble with his marriage offers. Once Kulandaivelu's mother goes with horoscope that his marriage would end with problematically.
The astrologer says, that Kulandai has to get married within the three months, if not the family face of an aftermath. These words made Kulandai's mother to worry a lot. Now they started to searching the brides unfortunately the proposals were getting rejected by his job, but finally Maghizhini (Arthana Binu), and her parents Mansoor Ali Khan and Kovai Sarala are happy to fix up with Kulandai and with his job.
Kulandai was felicitous with Maghizhini proposal and he was proud of her beauty and he expresses his happiness to everyone who are all rejected him. In this situation, a local MLA' s son keeps one side love affair with Maghizhini and even compromised Maghizhini's father by giving the amount, as Maghizhini's father (Balu), who gets loans to many people. Now, Maghizhini's father stops the engagement ceremony and plans to Maghizhini to married with MLA's son. By these consequences, Kulandai get married with Maghizhini and how the whole family fraudulence Balu.
GV Prakash Kumar as usual lethargic performances by hold strongly with Yogi Babu. The heroine Arthana appears in seemly costumes and she looks attractive in each frame. In the first half Yogi Babu carried out the film and in the second half Mansoor Ali Khan and Kovai Sarala hold up the movie by their comedy.