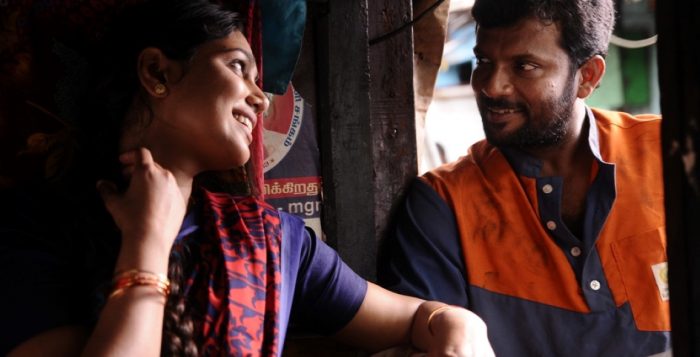 The choreographer Dhinesh had been stepping in the acting field, which his expressions were speaking out in well manner. The story collides with an adulterous concept that had got the U certification from the censor board, Yogi Babu is one more artist who grab the attention of the audience.
The film begins with Kumar(Dhinesh), a scavenger working with the Chennai Corporation's Solid waste collection department, looking to find a suitable bride to wed. After a seven year long search, a wedding broker brings an alliance, which Kumar and his mother find appealing. The family of the bride, Poongodi (Manisha Yadav), resides in the beautiful hilly terrain of Valparai.
The family moves to Valparai to see Poongudi (Manisha Yadhav), bad luck to Poongudi and she wanted to get married with a clerk job person, but her father hides the truth about Kumar's job and fixing the marriage. Once marriage gets over in Valparai, both were moving to Chennai. Initially, Poongudi adjust with Kumar with small house and the unfit atmosphere.
After three months later, Poongudi was getting pregnant. In this situation, she was observed that her husband is not a white collar guy. Now she started to avoiding Kumar, this made him worried a lot and plan to shift of his place and job. But this innocent girl getting attracted with a software guy and eloping with him. Watch out the film "Oru Kuppai Kadhai" in the theatre, how the man Kumar changes altercates life of Poongudi in a harmonic way.
Dhinesh executions were efficacious and his first movie shows him as an experienced artist, Manisha Yadhav given the trump by her destitute attitude and Yogi Babu was missed out in the second half.
Other than that, Oru Kuppai Kadhai is exactly the opposite of what its title suggests. It is a gem of a story, told in all sincerity and earnestness. In other words, this film is a must watch!
Cast:
Dinesh
Manisha Yadav
Aadhira
Technicians:
Directed by * Kaali Rangasamy
Music by * Joshua Sridhar