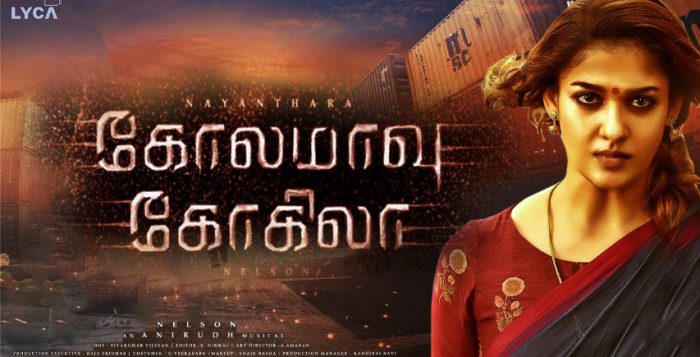 The rubric "Kolamavu Kokila" foretells female artist Nayanthara hold the story end-to-end towards the film, her innocent performances, sinless facial expression and body language aren't new to this film, as observed if it is an innocent eccentric Nayanthara goes with a top and skirts throughout the film.
The film's stratum is Nayanthara, but the expectations grim for the audience, "Naanum Rowdy Dhaan" postures were resembled in her performances.
The unveiling director Nelson attempt with the successful artist Nayanthara, if there any overleaping in the screenplay that the audience compromised with the elegant actress.
Kokila (Nayanthara) is a working woman whose salary is important to her family of four. Her father, a guard at a bank's ATM, is an alcoholic, and an incompetent person. Therefore, his family, including his wife (played by Saranya Ponvannan), have little or no respect for him.
Despite working efficiently, Kokila is denied an increment in office because her manager seeks sexual favours. Although he does not spell it out, he keeps insisting that she meet him in private, outside office, if she wants a raise. The smart woman that she is, Kokila knows what is on his mind. She sharply but politely snubs him by telling him that if she wanted to get a raise in this manner, she could have done it by straightaway meeting the boss instead of him. The process, she reminds her manager, would have even resulted in him getting fired. Invariably, she knows she will be shunted out for this response. As expected, she is.
Having been shown the door, Kokila desperately looks for another job as her salary is important to run the family. After quite a search, she lands a Manager's job in a spa. Her dad however is concerned that her new job profile might affect her prospects of finding a good bridegroom.
Kokila though isn't worried. For her, the increased pay her new job offers is more important.
Just when she thinks that she has managed to overcome the crisis caused by her decision to quit her previous job, ill luck strikes. This time, in the form of Kokila's mother, who is diagnosed with lung cancer. The doctors say her treatment will cost 15 lakhs and that she may have only two or three months left without treatment.
The family is shaken. Kokila tries all possible ways to generate the required funds for her mother's treatment, but to no avail. Wherever she goes, doors are shut. People either question her ability to repay the sum or simply expect her to sleep with them. With no option left, Kokila and her sister decide to meet a broker and sell off a piece of land that the family owns. However, the broker tells them that the land will not fetch them more than a lakh and that too, only when a suitable buyer comes forward to buy it.
Disheartened by the developments and wondering what to do next, Kokila steps out of the broker's office only to end up colliding with a drug peddler who is fleeing from cops. As a result of the collision, the criminal loses his balance and falls, giving the cops enough time to arrest him.
Unaware why the cops have arrested him, Kokila apologises to the man and begins to make her way home along with her sister. However, on the way back home, the two sisters are stopped by the gang members of the man arrested. The group, led by a drug peddler called Babu, tells Kokila that they will hold her sister hostage till the time she retrieves a drug package that the arrested man had left inside the complex before being arrested. Babu tells her that it was she who was instrumental in getting his man arrested and therefore she has to finish the job he was meant to do. With no option left, Kokila heads back to the same compound which is now teeming with cops. She finds the hidden drug package and hides it in her tiffen box before looking to make her way out of the complex. By now, cops have cordoned off the area and have begun searching all those present on the occasion. Kokila too begins to stand in the queue to be frisked by the cops…
To the normal, average viewer, the film is an entertainer that tells the tale of a middle-class woman, handling difficult situations that life throws at her in a humourous manner. To this viewer, the film is likely to come across as an entity with just one layer in it. This layer will be a fun-filled entertainer, with just the humour element of the film standing out