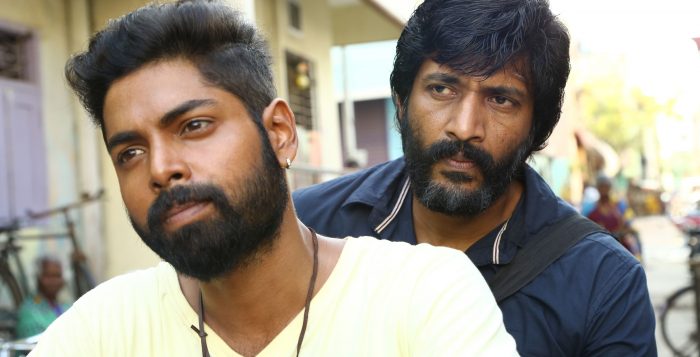 2009ம் ஆண்டில் வெளியான பிரிட்டன் படமான The Disappearance Of Alice Creed படத்தால் ஈர்க்கப்பட்டு இந்த கதையை உருவாக்கியதாக படத்தின் டைரக்டர் சர்ஜன் ஒப்பு கொண்டுள்ளார். ஆனாலும் அந்த படத்தை அப்படியே எடுக்காமல், சில மாற்றங்களையும் அவர் செய்துள்ளார்.
: A relating to the characteristic of high society crusades of short films like "Lakshmi" and "Maa" both were uttered out in well manner. The baseline of "Echcharikkai" somehow managed to explain in a negative situation overlap with a positive sign.
In the opening, a lady was murdered by his husband that she is not ready to give money towards her husband for drinking alcohol and this situation observed by killing lady's younger brother, on the spot he kills his brother-in-law. Now the nineteen years old guy prisoned.Years later, prisoned man David and orphan guy Thomas meets up each other. The miserable men felt bad about their missed out life. By this scenario, both of them steps into a criminal activity to earn money in a short span. For this, they targeted to kidnap a girl and that was the royal man's daughter, Swetha Varalakshmi was fixed as their focal point. Once they kidnapped, guys demanding for eight crore.
Real estate owner Perumal, who trusted on Nataraj (Sathyaraj), who is a retired police officer and Nataraj had an impairment of health child, that he gives treatment from his home.Once the investigation starts Nataraj reached out the criminals. Unfortunately, for his child treatment he need lump sum amount. As the director pinpoint about karma, the money was used for anyone is the final touch.
The senior actor Sathyaraj covered his portions in an usurp manner, Kishore who is being perfected in both acting and choosing of distinct eccentrics, Varlakshmi as usual bumpy and tough heroine role, Yogi Babu fulfilled his duty in an adequate way.