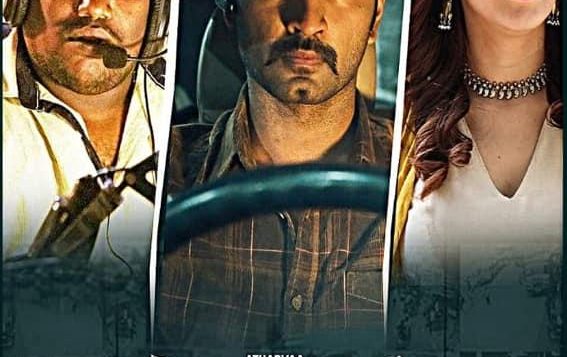 Just as the official announcement on "100" movie getting scheduled for release on May 9, the entire team was present for its media and press interaction this evening. The event commenced with the screening of theatrical trailer and couple of lyric video songs.
Music Director Sam CS said, "The film might be assumed as stereotypical cop movie, but has lots of freshness in it. The way Sam Anton narrated me the story made me instantly drawn into it. The treatment is completely unique and it has every element that will attract family audiences. I am thankful to Sam Anton for giving me an opportunity and complete freedom to experiment in new musical zones. Atharvaa Murali, Hansika Motwani and everyone in the team have given their best into the show. The entire team is so much positive and it is definitely going to be a landmark film for him."
Cinematographer Krishnan Vasant said, "Although, Sam Anton's previous films were humour based, it was so interesting to hear each and every scene of 100 during the script narration itself. I am sure audiences will feel the edge seated moments thoroughly in many places."
Producer Mahesh of Auraa Cinemas said, "This is a dream come true for me as 100 marks my debut film as producer. So far, I have distributed many movies and it's been a long run dream for me to become producer. Director Sam Anton and I share a good vibe from the days of our college. While narrating the script, I could see that it has lots of elements to engross family audiences. Every actor and technician has done perfect justice to their roles. Atharvaa Murali as cop has done a prodigious job. Be it Krishnan Vasant's cinematography, Ruben's editing and Sam CS' musical score, everything has nurtured the film efficiently."
Director Sam Anton says, "My bonding with Auraa Cinemas Mahesh sir extends from our day of college. He is my college senior and it is really a great moment to work together. The best obvious person I must thank is Atharvaa Murali sir for banking his hopes on me. This is because my previous movies have been completely based on comedy and to see him accept my script is a bliss. It's not a common action movie as many cops do. It has lots of drama happening inside police control room. We have tried projecting a serious social issue as premise and tried giving solution too."
Actor Atharvaa Murali said, "I am so happy that Sam Anton narrated such an engaging script. I request him to continue making action oriented scripts. The dramatic events in the film will be definitely impressive and I believe audiences will enjoy the show. It's not just about a serious premise, but has lots of elements that will engross universal audiences. Hansika Motwani and others have done their roles aptly perfect. I am thankful to producer Mahesh sir for taking special interest into the project and Sam CS' musical score is intriguing.